Our machinists take pride in being able to make
a one-off part to print the first time – every time!
Come join our team!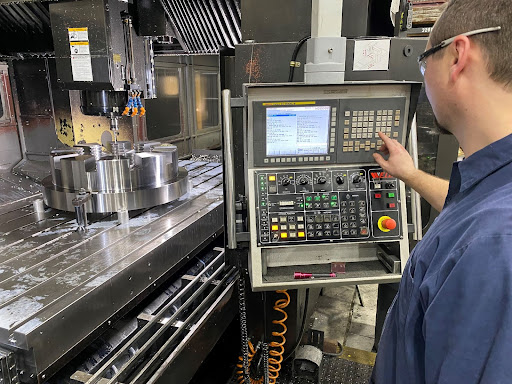 Opportunity
The CNC Machinist is responsible for maintaining company and customer defined Quality Practices, efficiently performing job setups on assigned equipment, properly selecting tooling or fixtures for maximum efficiency, following shop floor routings or work instructions, completing jobs within planned time, following safety policies, and knowledge-sharing throughout the organization.
Essential Functions
Setting up and operating machine tools
Analyzing print specifications and routings effectively
Writing accurate, detailed setup sheets
Filling out inspection reports accurately
Locating, setting up, touching off tooling, and entering offsets
Assisting with specifying fixtures or jigs
Selecting appropriate tooling for production including general knowledge of inserts
Tooling fabrication
Use of inspection equipment
Qualifications
3-5 years of CNC Machining experience (preferred but not required)
2-year technical school degree in related study is a plus
Reading, interpreting engineering blue prints
Understanding geometric tolerancing
Shop math (i.e., trigonometry and geometry)
Setups
Speeds and Feeds
Program editing (G-Code)
Properly selecting tooling and insert identification
Calipers, mics, etc.
Selecting, using, and/or making fixtures
Attention to detail
Teamwork and communication skills
At Mid Valley Industries, our team is at the center of our success but we realize there's life at work and life outside of work. We want everyone to be healthy and happy professionally and personally. Our mission is to empower our employees to take on the most inspiring challenges and create a life they love. Work hard. Play hard. Feel proud.
We support the whole person and care about not only your career but also your wellbeing and your family's.
Health Insurance
Dental Insurance
Vision Insurance
Accident and Critical Illness Insurance
Flexible Spending Account (FSA)
Health Savings Account (HSA)
Health Reimbursement Arrangement (HRA)
Mid Valley Industries provides you the means to build and protect your financial future. Financial benefits for you and your family may include:
401k Plan with Company Match
Profit Sharing
Employment Anniversary Bonus
Paid Vacation, Holidays, and Birthday PTO Day
Life Insurance
Short-Term Disability Insurance
Long-Term Disability Insurance
Learning doesn't stop once you have the job. We're dedicated to ensuring employees have the knowledge they need to do their jobs well by assisting with professional growth. Career benefits for you may include:
On-the-Job Training
Tuition Assistance
Development Opportunities
Nothing is more important than your safety which is why Mid Valley Industries is recognized as an employer of choice for several reasons:
Clean, climate-controlled, environmentally safe, and latest-technology facility
Employee-centered, family-oriented, and flexible schedules to fit your life
Multi-generational, culturally diverse, and knowledge-sharing workforce
Mid Valley Industries
1151 Delanglade St
Kaukauna, WI 54130
Office Hours:
Monday - Friday: 8:00 AM - 4:30 PM (Central Time)
Shipping/Receiving Hours:
Monday – Thursday 7:00 AM - 7:00 PM
Friday 7:00 AM - 4:00 PM (CENTRAL TIME)
Mid Valley Industries
1151 Delanglade St
Kaukauna, WI 54130
Office Hours:
Monday - Friday: 8:00 AM - 4:30 PM
Shipping/Receiving Hours
Monday – Thursday 7:00 AM - 7:00 PM
Friday 7:00 AM - 4:00 PM (CENTRAL TIME)